Episode 154 – Super Castlevania IV
Wiggly whip at the ready!
11 months ago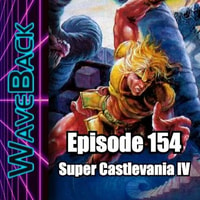 Show Notes
Matt and Kris continue their October tradition with the next chronological Castlevania release, Super Castlevania IV for Super NES. This game was a watershed moment for SNES sound design, and has more than earned its legendary status. Enjoy!         
Useful Links
Background Music
Various other Castlevania songs from the series history
Super Smash Bros. Ultimate
Social Stuff