Episode 167 – Akumajo Dracula (Sharp X68000)
An underrated Castlevania Classic!
2 months ago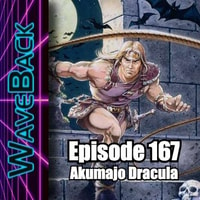 Show Notes
As has become tradition around here at the WaveBack podcast, every October Matt and Kris focus on the music of a different Castlevania game in chronological order. This time they're cracking their whips at an often overlooked entry in Konami's classic vampire killing franchise, and one that didn't find its way to North America until well after its initial release overseas. Watch out for trees being struck by lightning because tonight they listen to the music of Akumajo Dracula for the Sharp X68000.
Useful Links
Background Music
Various songs from the PlayStation version of Castlevania Chronicles
Social Stuff